BestChampagne had the pleasure of interviewing Mrs Cecile Bonnefond, Former President of two of the most prominent Houses in Champagne: Piper-Heidsieck and Charles Heidsieck.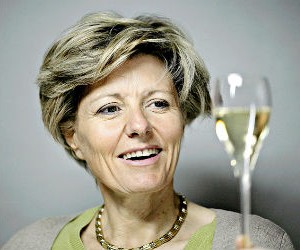 Prior to taking the Presidency in 2011 Mrs Bonnefond was Head of the second largest Champagne House: Veuve Clicquot Ponsardin.
In this interview she shares the profound history of Champagne Piper Heidsieck and Charles Heidsieck. She unveils her bold visions for the two Houses while keen to maintain their distinctive styles and character.

BestChampagne: The history of Heidsieck Champagnes leads to 3 current Houses, of which 2 are part of your group? Can you tell us about the history of your brands?
Cecile Bonnefond: The origin of Piper-Heidsieck House dates back in 1785 which is before the French Revolution of 1789.
It means there was still a King in France, Louis XVI and a queen, Marie Antoinette. There were very few Champagne Houses at the time.
(Long after Florens-Louis Heidsieck created his House, it was eventually separated into two: Heidsieck Monopole and Piper-Heidsieck, two very separate houses since then).
The story is that Heidsieck wine was sold by Mr Piper, the commercial director of Heidsieck Wines. Monsieur Heidsieck died and Mr Piper married the widow Heidsieck. That's when Piper's Heidsieck became Piper-Heidsieck!
In 1851, one of the descendants of the family decided he wanted to create his own champagne company. It was Charles Heidsieck.
He was surrounded by the Champagne culture (his mother was a Henriot and his wife was a Henriot, a venerable champagne family name) but he said: "I'm 29 years of age and I want to create my company. But I need money". So he borrowed money from the Piper-Heidsieck line and created his company named after him.
His whole purpose in life was to make the company known under his first name, to put his mark in champagne. When he came into business, all other houses were going East (like to Russia), he went West.
He created his own house in 1851 and already in 1852 he went to America. What an adventurer! In fact, Charles Heidsieck is the first House who ever brought Champagne to the US.
Charles Heidsieck really made a statement for champagne. That's how he became a real dandy because he had so much success. He was tall, and really handsome and a true gentleman…He must have had a strong French accent, which the Americans must have loved. He had a lot of charm and wit in his wine and in his personality.
That's how he became known as Champagne Charlie. Champagne Charlie followed his reputation far beyond America and in the most Anglo-Saxon countries. It became the way his wine was called.
In 1985, the Remy Martin group bought Charles Heidsieck from the family and brought in the cellar master, Daniel Tibault, who is known here as one of the gods of champagne making.
In 1988, just three years later, the same group bought Piper-Heidsieck. These two Houses between 1785 and 1851, up to the 1980s were two different companies and they are still run as such.
They now belong to the same independent family group [EPI], and they have a fully dedicated team to Charles Heidsieck and a team to Piper-Heidsieck.
BC: How would you define the style of each of the Houses? What are the differences between the two?
CB: I have met the descendants of both families and they have very different styles. It is like when you have cousins from far away in the family, they have the same family name but it is interesting how their culture can be very different.
Piper-Heidsieck is recognizable by its red and gold label. The origin of Piper-Heidsieck is extremely royal, extremely chic, and extremely aristocratic.
The Marquis d'Aulan sold his property and his vineyard to the Remy Martin Group. He was a captain in the champagne industry, an impressive leader and, with his beautiful wife, he was also a great ambassador of his house He had a lot of style himself, so caracteristic of the French aristocracy.
Today, Piper-Heidsieck is still the Champagne House No3 internationally. Piper-Heidsieck is one of the most prestigious historic Houses of Champagne. So, Piper-Heidsieck is really a prestige House and it has superb wines.
Our cellar master Régis Camus, has been awarded Best Wine Maker of all sparkling wines of the world seven times!
We are now in a big reinvention process of Piper-Heidsieck because we know the wines are just absolutely superb and too ignored. Piper wine is 'ample' and is still fresh and lively. It has a lot of fruit.
When you drink Piper-Heidsieck wines, it is like you are travelling in a basket of fruits. From apple and pear (Brut), to apricots, plums (vintages) and litchi (Rare).
Then to Rosé Sauvage, strawberry and red orange, in nose and pallet. It is a very very elegant wine with a lot of length into your mouth.
We age the wines more than what is required by the champagne appellation and therefore they are right and beautiful. The extremely fine bubbles also testify it.
By regulation, non-vintages champagne should age in cellars at least 15 months, we do minimum three years.
Piper-Heidsieck wines are for every moment of the day, in every occasion. I can drink Piper-Heidsieck for brunch, it goes very well with simple food, fresh fruit, or oysters, or ham. I think it`s fresh and lively.
You can have rosé in the middle of the afternoon or anytime. In Piper-Heidsieck there is a constant dialog between the prestigious gold of the wines and the boldness and passion of the red label!
BC: What about Charles Heidsieck?
CB: EPI group also bought Charles Heidsieck in 2011 and that is a family business, totally independent and so now Charles Heidsieck is run by a family again.
We are fortunate that Christopher Descours, owner and President of EPI, recognizes that champagne requires a lot of time and that he respects and loves it.
Charles Heidsieck is just the darling champagne of the Champenois. Everyone in champagne respects and loves Charles Heidsieck. It is intimidating as well as motivating!
BC: Are you saying that being owned by a family, you don't experience the financial pressure you experienced when at the head of Veuve Clicquot Ponsardin [part of LVMH luxury group]?
CB: Business is business, so I would not be so extreme, but perhaps not so much in the very short term. Charles Heidsieck is a very small and special business. It's about being extreme in everything.
The brief the previous cellar master, Daniel Thibault, received was: "Do whatever you need to, we just want the best champagne".
In champagne, the grapes you harvest every year have a different nature compared to the other years, just be it because of the climate. Hence to get the taste regularity right, we need "reserve wines" to compensate for whatever there is about.
Then you can say 'I love this champagne because I can recognize its (same) taste' but nature is opposite to 'always'. Nature is different every year.
So, usually houses are putting between 5% and 15% reserve wines to compensate for the natural variation. That was not enough for Daniel Thibault. He said 5, 10%, 15%, 20%, 25%, 30%, 32%, 35%, 38%, he went to 40% and he stopped there, because over 40% you don`t get a [in bottle] second fermentation.
He wanted a wine that not only would be consistent over time but will have very recognisable taste and a very special profile. Those reserved wines will on average have a minimum of 7 or 8 years. You need to have 50% above 8 (up to 17 years in our current Brut) and 50% below it, to get 8 on average.
Came 2007, Thierry Roset, the 20 year of service winemaker wondered "how can we make a -new- statement". His conclusion was 'Continuity BUT Precision'. So he kept 1/3 of each Champagne grape [Pinot Noir, Chardonnay, Pinot Meunier] because that is the DNA of wine. He obviously kept 40% of reserve wines.
But instead of blending around 120 crus, which meant 1 cru out of 3, he decided to get only the best of those crus. That moved 120 crus down to 60, still 1/3 of each grape. He also increased the average age of the 40% reserve wines from 8 to 10 years. And he put it in a perfect bottle.
A year ago, this [new Charles Heidsieck Brut non-Vintage] bottle was not in the market. We have taken a year to redesign its labelling. We started from scratch. We have gone back to every archive of the House.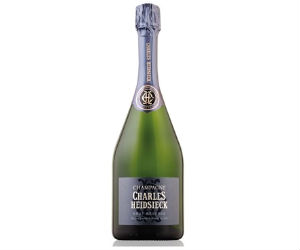 We have banned the marketing; marketing was not on the agenda. In 1900, this was the design on our bottle. We thought this [blue] colour makes it very gentlemanly. A gentleman would wear those colours. Charles Heidsieck was really a gentleman.
So everything we are doing is around who he was, the history, the patrimony and the heritage. A year ago when we bought this House we knew that the wine was superb, the bottle was superb and the rest had to be revitalized.
BC : Do you have objectives in terms of market share?
CB : No. We will regain Charles Heidsieck status. Piper-Heidsieck is a superb brand. It has been undervalued because of its "too" good price. In luxury, you need to know that you are paying the right price for the right quality.
BC : What are your objectives in terms of positioning?
CB : We would like the Charles Heidsieck brand to be known amongst a broader people. Extend the brand internationally. For Piper-Heidsieck it is a prestige House so it is about maintaining or increasing this prestige. Serving Piper Heidsieck is a privilege.
BC : Branding, distribution and quality; these three aspects are recurrent in Champagne. What is the main one for your Champagne Houses?
CB : I agree with those three concepts but I do not say quality, I say "excellence". I do not say distribution, I say "presence". I do not say branding; I say "brand appreciation". Champagne is already excellence in itself. So choosing a specific champagne is where the harder part is.
We want to be the preferred choice. We want to be part of one's memory. People should say "yes, I remember Charles Heidsieck and Piper-Heidsieck".
BC : At your personal level what is champagne for you?
CB : Passion.
BC : Is your favourite drink, champagne?
CB : I think water is great. Great water is superb. I love tea, and great tea is an experience.
For wines, I love champagne and red wine.
BC : Madame Bonnefond, what would be life without champagne?
CB : To me it would be life changing. That is what champagne does to you. It is amazing. Your lifestyle is a complete plus with Champagne.
If you could call time a product or space a product…here you could call happiness a product.
Follow the links to discover Charles Heidsieck and Piper-Heidsieck Houses and champagnes.