BESTCHAMPAGNE HAD THE PLEASURE OF INTERVIEWING Jean Marc LACAVE, President of the prominent Champagne House and luxury brand Veuve Clicquot Ponsardin until 2014.

Veuve Cliquot, or "Veuve" as it is often referred to, is Champagne's second largest house after Moët & Chandon, and is also part of Moët Hennessy group.
Mr LACAVE was President of Veuve Clicquot Ponsardin between 2012 and 2014 and was recently appointed President and Regional Managing Director of Moët Hennessy Asia Pacific.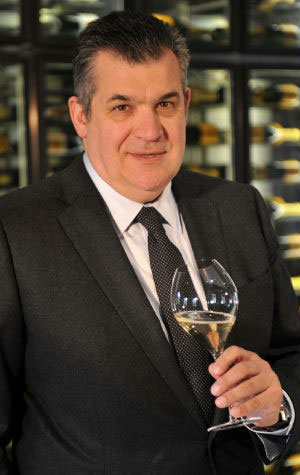 BestChampagne: Monsieur Lacave, before joining Veuve Clicquot Ponsardin, you ran Pommery Champagne, another major champagne house and were also the head of LVMH watch division in Asia. What did you learn from these experiences?
Jean-Marc Lacave: Pommery gave me an interesting perspective on innovation and time. In a setting with somewhat limited means, we learned to optimize every investment to achieve our objectives.
It is difficult to compare the industry of champagne to jewelry because in the latter, we control the entire chain of distribution networks.
As with champagne, we depend on prescribers, distributers and sommeliers, always with customer satisfaction at the heart of our concerns.
BC: Veuve Clicquot Ponsardin is one of the oldest and most well-known Champagne houses. What is the distinguishing feature of your house that makes it so successful?
JML: At Veuve Clicquot Ponsardin, we are committed to a quality that is beyond reproach, which we apply to all aspects of the production of our wines.
Veuve Clicquot Ponsardin carries a degree of insolence: a mix of madness and creativity where the client can feel the balance between these two aspects.
There are a number of great champagne houses that make excellent wine but there are less that posses creativity and even far less that are able to maintain both excellence and creativity. That's the spirit of Veuve Clicquot Ponsardin.
BC: Veuve Clicquot Ponsardin is the second largest champagne house by sales volumes. How do you create the balance between sales and quality while maintaining the brand value?
JML: In terms of quality, we must have clear rules, as volume is linked to supply.
The champagne cellar resting time is fundamental in champagne making and this can sometimes be a barrier to commercialization. Meaning, this can put us in trouble when demand is greater than the availability of our champagnes.
To maintain high quality, our wines must be put into allocation. Our house is profitable enough so that we have the means of our choice.
However, product quality and brand image are two different things and the risk of deviance is still there.
We are fortunate to have a well-integrated network that allows us to control the distribution; at the same time we communicate clearly and simply.
BC: Champagne sales in Europe, as a whole are declining as opposed to distant markets. What is your analysis of this situation and what new markets are you looking to venture into?
JML: I remain prudent about these figures. When you look at the data made available by the Union de Maisons de Champagne (the union of largest champagne houses), we realized that the top 10 champagne houses are doing well, in all markets.
The French economy [which is the largest champagne market in the world] is not doing great right now and the future prospects are uninviting but we'll have to make the best of it.
Veuve Clicquot Ponsardin is still gaining market shares in France and in Europe; four European countries remain in our top 10 of sales.
The United States remains an emerging market for us, as per capita consumption remains lower than Asia. Asia is another interesting market where we have already been working for quite some time.
Today we are increasingly interested in countries like Brazil and Nigeria.
We have already put into place our distribution network and our communication capacity, since educating consumers in these new markets is key.
Wine is a cultural product and those markets do not yet have a strong wine culture. It is on us to make it happen therefore, our message must be stronger than ever.
To educate consumers it takes time and resources and at Veuve Clicquot Ponsardin we are committed to that.
BC: For Veuve Clicquot Ponsardin like the majority of champagne houses, the brut non-vintage represents the vast majority of sales. Yet, some vintage champagnes are cheaper than non-vintage, which might sound contradictory…
JML: In my opinion, many non-vintages are far better than some vintage champagnes.
In today's market, producers label vintages more frequently and this makes the champagne offers confusing and consumers can easily get lost.
Within this framework, it is difficult to understand why our Yellow Label (brut non-vintage) is sold for €40 while certain vintages by other producers are cheaper.
The truth is that certain producers are killing the dream that champagne represents.
The fact that the average restaurant can sell champagne carrying its name, becomes extremely dangerous to the respect and visibility that champagne wines enjoy.
I am thankful to work with such great professionals such as, Joël Robuchon, who helps to make sense of things.
BC: How do you view competition from foreign sparkling wines?
JML: Sparkling wines are not a threat to the major champagne brands or the producers who make quality champagnes.
If we look at the current production of still wines from all over the world, this has allowed for exceptional wines to coexist with the great wines from historical regions of production such as, , Burgundy, Tuscany and Rioja.
At the same time, this has left no room for lower quality wines from France. So I think that if the development of sparkling wines can do away with the 8 euros champagnes found supermarkets at moments of crisis, this is a very good thing.
BC: What do you think of the online sales of champagne, which new market players are constantly arising?
JML: It seems to me that this is an opportunity for brands that enjoy strong recognition.
The Internet allows us to take the time to educate consumers.
Veuve Clicquot Ponsardin has a very loyal customer base that is aware of the array of choices and e-commerce can represent simplicity for them.
The Internet provides us the ability to tell our story however, it also promotes price wars and this is why we must think of how to position ourselves best on the Internet.
BC: What are your personal ambitions and goals for Veuve Clicquot Ponsardin?
JML: In terms of volume, we will never be the world's largest brand nor is that our aim. In terms of quality, we are without a doubt, an undisputed reference but there is always room for improvement.
This is a very clear ambition that is appreciated by our consumers. We are an extremely high quality Champagne house with a very strong reputation but we are not yet perceived as undisputed quality.
BC: Do you drink other brands of champagne apart from Veuve Clicquot Ponsardin?
JML: Sure. In wine, there is still a notion of eclecticism. It is necessary in our business to know one's world and competition.
We are sure of what we do at Veuve Clicquot Ponsardin but there are several other champagne producers who develop excellent wines.
Therefore, we have the chance to study our main competitors while enjoying their wines. Could be worse!
BC: Monsieur Lacave, what would life be like without champagne?
JML: Champagne is bright and sunny. A day without champagne is like a rainy day in February!